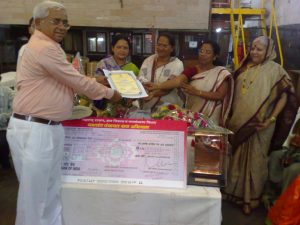 S.S.K. Engineering Works(India) Pvt. Ltd.  was established in 1987 as a partnership firm by three partners having wide and varied experience in the ship-repair industry. Initially, the firm undertook ship-repair jobs as a sub-contractor to other well established ship-repair firms. Gradually, a dedicated work force of skilled and semi-skilled workman was built up to the present state, where are about 80 employees on the firm's rolls.
The firm has been formed by new name S.S.K. ENGINEERING WORKS (INDIA)PVT. LTD. In August 2010. The Workshop is licensed by Mumbai Port Trustunder their Bye-Law No.13 to carry out repair works of "Hull and Steam Gear" in their dry-docks and inside the dock area. The firm certified by IRQS in ISO 9001:2015 standard.
Although Shipping Corporation of India Ltd.,(SCI) continues to be the major customer of S.S.K. ENGINEERING WORKS (INDIA) PVT. LTD with the repairs on SCI ships accounting for about 60% of the total turnover, the firm has been expanding its customer base and has attended to repairs belonging to Petronet LNG Ltd., "K" Steam Ship Agency Pvt. Ltd., and All Cargo Logistics Pvt. Ltd., Aarya Group of Companies, Synergy Oceanic Services Ltd., Seven Island Shipping Services Ltd., Ambuja Cements Ltd., The Great Eastern Shipping Ltd., Dolphin Offshore services ltd. and Glory Ship Management. The firm has also take up sub-contracting jobs with shipyards like Colombo Dry Dock Pvt. Ltd. Where major boiler re-tubing, fabrication & installation of cargo heater, condenser and exhaust gas economizer elements, overhauling of Azimuth Thrusters & Bow Thrusters of OSV and steel renewal jobs were executed.
In addition to carrying out repairs on vessels calling at Mumbai Port, the firm has also attended to repair works on ships stationed at Bombay High, at other Indian ports and with the help of sailing squads, has executed repairs on ships sailing the high seas.
The firm has a spacious workshop in Mumbai, where all major equipments, special tools & tackles required are available and maintained. The firm additional set up of workshop facilities formed at Vizag (Andhra Pradesh), Colombo (Sri Lanka), Port Blair (Andaman & Nicobar Island) to reduce response time to vessels calling at these ports.